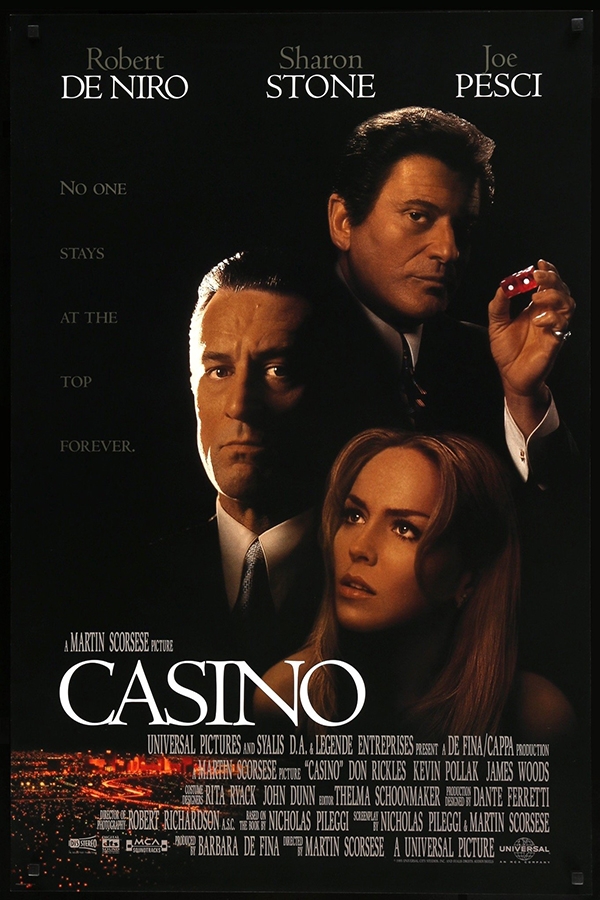 Casino
There is a constant outpour of new movies from the movie industry that it's near impossible to be able to watch all of them. That's the main reason why we decided to watch them for you, one by one, and give you a review of them all so you can make an educated decision if you want to see a movie or it's not for you. Casino is one of those movies that are pretty good for those who like crime combined with drama. It has an excellent cast and an even greater director. It's a classic movie that you'd really enjoy watching.
Cast Members
The lead role is played by Robert De Niro who is an excellent actor and brings so much value to this movie. The entire cast is stacked with amazing performers such as Sharon Stone, Joe Pesci, James Woods, and so on. With Martin Scorsese directing it's a movie that really delivers excellent time.
Performance
The performance of all the actors is spectacular as it's expected of such caliber of actors and actresses. They all rise to the occasion and perform to perfection. They also work well together and make the entire movie extremely exciting.
Production Quality
The production quality is where this film is lacking a bit because it was filmed in 1995. They had less advanced technology back then and some scenes could be executed better when we take everything into consideration.
Script Analysis
The script is smartly written and performed to the maximum. Personally, I don't see any flaws in the script as it delivers an excellent time to the audience for the entire duration. The actors are also making it come to life in a near-perfect way.
Entertainment Value
This movie has tremendous entertainment value and anyone who likes crime dramas should see it. The actors are delivering an excellent performance and are able to elevate the value of this movie to a point where it's really worth watching.
Assessment
Overall it's a must-watch movie that is considered to be one of the classics. De Niro is a great actor that makes this movie even more entertaining than it already is and the rest of the cast are doing an amazing job complementing this great actor. It will entertain you for the entire duration and even though the production quality is a bit lacking, it's no big deal.
Improvements
The improvements that could be made are in the production quality. Some things feel like they could be done better and with a bit more creativity but it's not a deal-breaker.
Final Thoughts
A movie that will be one of the best you've seen if you like crime dramas. It's very exciting and fun to watch for the entire duration and it will keep you entertained at all times. The cast is doing an amazing job and you'll enjoy every minute of it.
(Image Credit: originalfilmart.com)