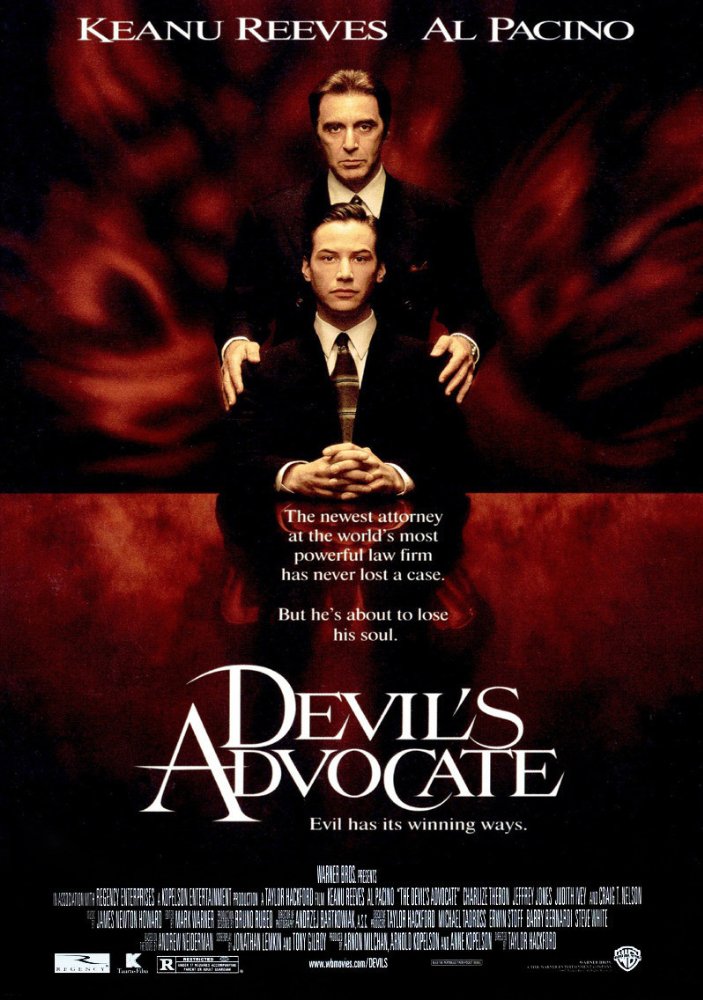 Devil's Advocate
The movie industry is constantly on the rise as more and more movies are coming out each yet and it's nearly impossible to see them all. That's the main reason we decided to do it for you and review all of them so you can go ahead and make an educated decision about which movie to see and which one to skip. The Devil's Advocate is a mix of fantasy, horror, thriller, and mystery that will definitely peak your interest and keep you on the edge of your seat. It stars some of the best actors that do their job extremely well like Al Pacino, Keanu Reeves, and Charlize Theron. It's a movie that will make you wonder if what's happening is real or not and that's why it's so entertaining.
Cast Members
The lead role is played by Keanu Reeves, who is a very talented attorney. He then gets an invitation to work for a giant New York law firm led by Al Pacino and he decides to take the offer and move there with his wife Charlize Theron. The cast members are all well picked for their roles and do a great job portraying the characters.
Performance
The performance of the actors is truly great. They are all very talented and act so well in this movie that it makes the movie extremely entertaining and watchable. It's a movie that bends reality and the actors contribute to its success tremendously.
Production Quality
The entire production did a great job on this one. Considering it's filmed in 1997 and the technology they had back then it's quite alright. There are some rooms for improvement in this field but it's not a big deal at all.
Script Analysis
The script is pretty good but the actors bring it to life and make it even better. They are the ones making this movie very entertaining and keep the audience engaged throughout the entire duration.
Entertainment Value
If you like a good mystery that keeps you engaged for the entire duration you'll find this movie one of the best you've ever seen. It's very entertaining even though it develops kind of slow and it lasts for two and a half hours. Overall it's a movie that will provide excellent entertainment value for those who like thrillers, horrors, mysteries, and a little fantasy.
Assessment
Overall it's a movie that is definitely worth your time. It's a bit slow and lasts long but once you get into it you'll keep your attention and constantly wonder what's going to happen next. You won't regret watching it and you probably recommend it to your friends.
Improvements
The improvements that could be made are in the production quality. From todays' point of view it could've been filmed better but considering the technology they had in 1997, it's pretty good overall.
Final Thoughts
A movie that is worth your time and will provide you with a lot of entertainment value. Keanu, Al and Charlize are amazing in their roles and elevate this movie, making it very interesting and exciting. Although the production quality has some room for improvements it's not something that you'll notice unless you're looking for those moments where it's a bit lacking.
(Image Credit: amazon.com)