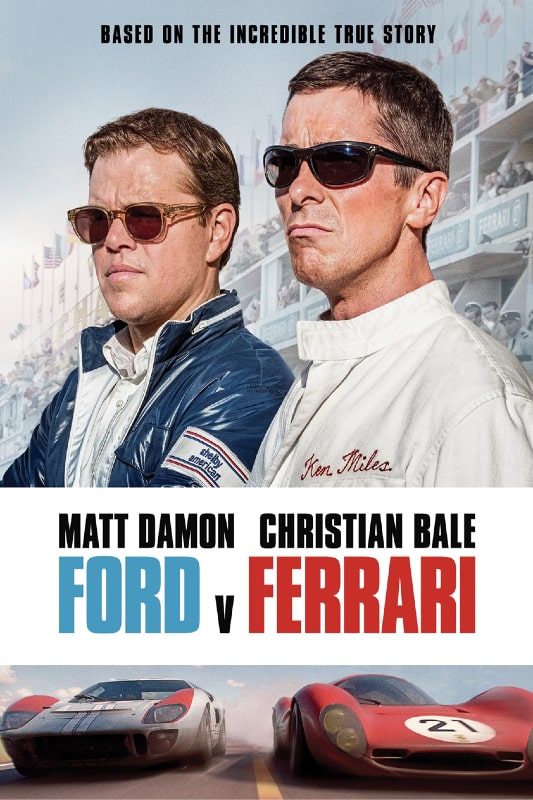 Ford VS Ferrari
There's a point at 7000 RPM where everything fades, the machine becomes weightless, disappears, and all that left is a body moving through space and time. 7000 rpm, that's where you meet it, you feel it coming, it creeps up on you close in your ears, asks you a question, the only question that matters, who are you?" – Carroll Shelby. (Image Source: imdb.com)
Humans attempt to beat something that they can't control—their hunger for success is unpredictable. The adrenaline rush is an addictive feeling that is hard to resist. Nevertheless, riding the fasters car on earth might give irresistible excitement. But have you ever realize how many miles per hour you can drive to fulfill that exhilaration? The film directed by James Mangold in 2019 will provide you the answer to that question. Ford Vs. Ferrari film is not just about a car; it reveals the value of loyalty, friendship, and trust.
Summary
Carroll Shelby and Ken Miles, two names we can't forget, altered the history of the 24 hours Le Mans race in France. Ferrari, who dominated the major racing tournament, met its rival in 1966 when Ford decided to enter the competition. Henry Ford II was rethinking the vision of Ford motor company, which he inherited from his grandfather. A question asked, What shall be his grandfather's legacy? Lee Iacocca comes with an idea of entering Ford into a prestigious racing tournament, the 24 hours Le Mans. He pitched that Enzo Ferrari would be known as the greatest car manufacturer of all times because his car symbolizes victory. Yet, the four-time winner of Le Mans, who gave all his life chasing perfection on a race car, went bankrupt. Henry Ford II sends Lee Iacocca to seal a deal with Enzo Ferrari to gain Ferrari company ownership.
However, Enzo played and back-stabbed them as he only needed them to raise the company value. Henry Ford II furious when he knew Enzo also insulted him and his company; he decided to start the race car program from that second. Here is where Shelby and Miles shine in making history. They both designed a race car for Ford that gives a rival to Ferrari. They lose the first race as Leo Beebe insisted on using a "Ford type" driver that portrayed reliability. Still, this race marks Ford's capabilities on building the fastest car ever, reaching 218 miles per hour down the Mulsanne straight. On Daytona race, Shelby taking the risk of betting his own company, Shelby American, to put Ken Miles behind the wheel of White Ford GT40. With Miles driving the Ford, he does a perfect lap and sets a new record. They strive to victory and win 1966, 1967, 1968, and 1969 on 24 Hours of Le Mans; despite all the corporate political issues and suck up employees, they made it.  Revered by racing fans worldwide, Ken Miles was inducted into the Motorsport Hall of Fame, and Carroll Shelby became one of the most successful sport car designers in history. They remain the only American built car ever to win the 24 Hours of Le Mans.
Cast Member
The chemistry of Matt Damon (Carroll Shelby) and Christian Bale (Ken Miles) revealed a friendship full of trust and loyalty. Tracy Letts (Henry Ford II) and Josh Lucas (Leo Beebe) displayed a typical businessman's mind where everything they did is for the "Ford" company vision.
Final Thought
An Academy Award Oscar 2020 winner for the Best Film and Sound Editing, BAFTA Film Award Winner, nominated as the Best Motion Picture of The Year, grossed $225.5 million against $97.6 million budget. Ford Vs. Ferrari film is the best American sports drama based on the true story of an underlying rivalry between Ford Motor Company and Ferrari.