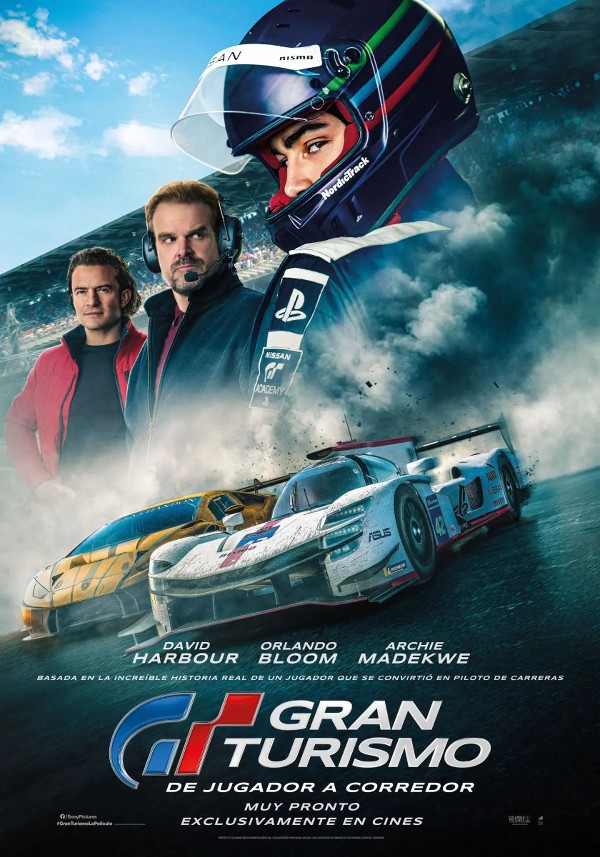 Gran Turismo
 2023 Review
As movie-to-screen adaptations of video games go, Gran Turismo is a couple laps behind James Mangold's Ford v. Ferrari and Ron Howard's Rush.
David Harbour, Archie Madekwe, Orlando Bloom, Darren Barnett, and Geri Halliwell lead the cast of this high-octane drama inspired by a true story. Directed by Neill Blomkamp, the film follows a teenage Gran Turismo player whose gaming skills win him a series of Nissan competitions and transform him into an actual professional race car driver.
Plots and story line
As video game movies go, Gran Turismo tries very hard to be something more than just an ad. Its story is an underdog tale about a teen who turns his gaming skills into a real-life racing career. Despite the fact that it's based on true events, the film takes some liberties with the facts.
Jann Mardenborough, played by Archie Madekwe, is a daring and ambitious character who knows his way around a car. He prepared for his role by playing the Gran Turismo games and he conveys both the successes and failures of his racing career very well.
Neill Blomkamp, the South African director known for his science fiction films District 9, Chappie, and Elysium, does a great job staging the races. He also manages to bring the race track into his film by incorporating actual footage and CGI-enhanced effects. Other members of the cast include Orlando Bloom, who is best known for his roles in Lord of the Rings and Pirates of the Caribbean, Djimon Hounsou, and former Spice Girl Geri Halliwell.
Characters and actors
There have been plenty of video game adaptations on the big screen, but Gran Turismo stands out for its focus on real-life characters rather than virtual ones. The film follows Jann Mardenborough (a likably boyish Archie Madekwe), a young gamer who turns his GT Academy training into a real-world racing career.
District 9 director Neill Blomkamp injects appealing speed and cornball enthusiasm into this first-timer's take on the video game to movie genre. But his hamstrung cast, including Djimon Hounsou and a groan-worthy Orlando Bloom in the role of Nissan marketing exec Danny Moore, can't get this clunker out of first gear.
Stranger Things fans should recognize David Harbour as Jack Salter, the gruff trainer who takes Jann and her group of gamers under his wing. He delivers a fine turn as an outsider who believes in his own brand of indomitable resilience. His clashes with the smarmy Moore make for an intriguing subplot. The movie also promotes the message that pursuing your dreams pays off — even when it's a tough road to the finish line.
Producers and directors
The film's premise might sound like disposable fun, or the type of movie you might watch while making dinner. But thanks to Blomkamp's chemistry with Madekwe and the racing action, Gran Turismo is more than just an enjoyable summer movie. It's also a surprising thrill ride that checks all the right boxes.
District 9 director Neill Blomkamp brings his trademark speed and cornball enthusiasm to this long-gestating video game adaptation, based on the popular PlayStation racing series and the true story of a fan who traded in his virtual steering wheel for real ones. Starring Archie Madekwe as Jann Mardenborough, the film follows his unlikely Cinderella path from his bedroom to the world's most prestigious racetracks.
 Neill exprerssed his vision for this project, which marks a departure from his usual dystopian sci-fi fare. He also explains why he chose to use elements from the Gran Turismo games in his cinematic interpretation, and how his innovative camerawork brought the races to life on the big screen.
Overall
Gran Turismo is a well-made film that captures the tenacity of the human spirit amidst wildly fun racing shots. The cast, led by Archie Madekwe and David Harbour, carries the film with their amazing performances and sincerity. The movie also evokes the emotions of underdog sports movies, making it more than just a video game film.
The Hollywood movie is based on a true story about a teenage Gran Turismo player who wins a series of Nissan competitions and becomes an actual professional racecar driver. It was directed by Neill Blomkamp, who did a great job with the script and characters.