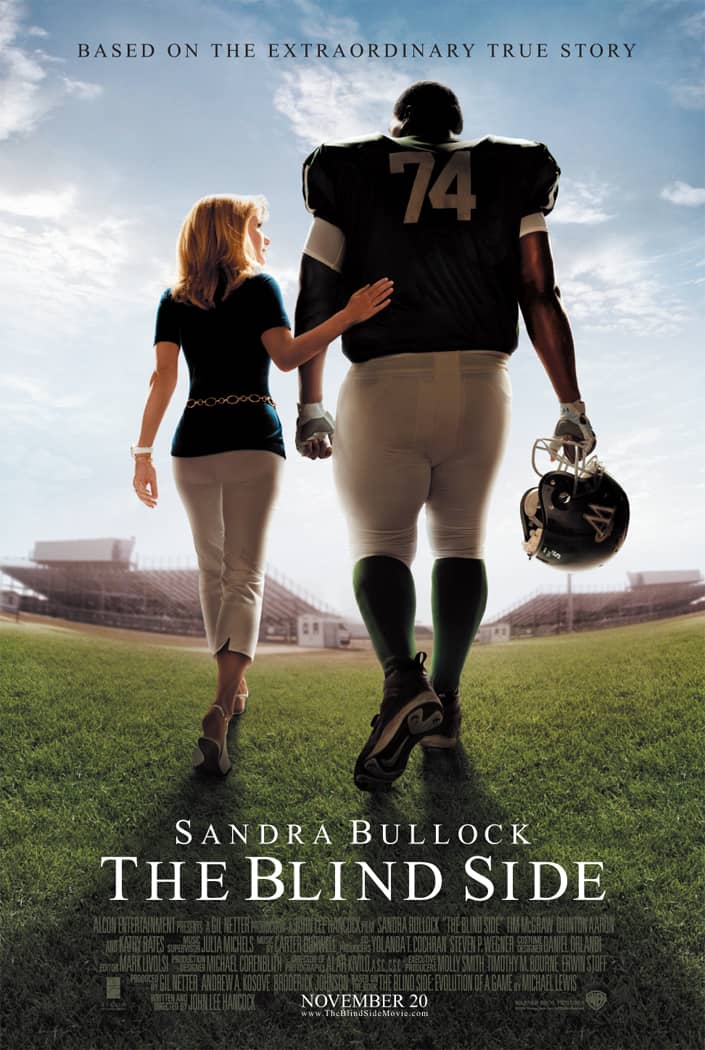 The Blind Side
A dream come true!. An untold story about ordinary guys that change the history of football is about to be revealed. He did not see what is coming, He did not know his future, but the only thing for sure is that he needs to survive. A heart-warming film that is going to make us feel inspired that we can do anything. We might be useless before, but the thing is we all have something in ourselves that we did not discover it yet.
The movie starts by showing us a homeless African-American teenager Michael Oher who wanders in the dark, hopeless, and alone, becoming the best offensive lineman in the National Football League (NFL). John Lee Hancock directed this Americal biographical film based on the 2006 book, The Blind Side: Evolution of a Game by journalist Michael Lewis. The writer manages to chronicle the real Michael Oher life and inspired a lot of people. This movie has become one of the Must-Watch films of all time.
This film was starring Quinton Aaron as Michael Oher, alongside Sandra Bullock as Leigh Anne Tuohy and Tim McGraw as the husband, Sean Tuohy. Leigh Anne and his husband show sincere love by adopting a 17 years old Michael Oher as their son despite color discrimination. Oher's problem with learning difficulties was not because of stupidity, but he is just an average student who needs a study guide. 98% of protective instinct has been made into a good used by becoming the best offensive lineman the world has ever seen.
Regardless of her friends' perception, she stands on what she thinks is the right thing to do. Leigh Anne has taught us that life can be meaningful if we share with others as well. She took Oher's as one of her children even though she did not know him at all. Humanity is priceless if we see it with our hearts. She knew she could take Oher's without his mother's consent, but she is willing to find his birth mother, who is also a drug addict and ask for her permission. We might think it is not worthy at all, but she knows the value of love. Deep inside the heart of Oher's mom, she knew she loves him. One small act can make a difference.
Rated 7.6/10 by IMDb, 66% by Rotten Tomatoes, and 95% liked by Google users, shows that this movie is a complete success. With a $29 million budget and Box Office worth of $309.2 million. You can do the math. In 2010, Sandra Bullock won an Academic Awards for Best Actress, Golden Globe Award for Best Actress in Motion Picture-Drama for her outstanding performance for these films. John Lee Hancock can be stated as one of the best directors as this film also wins The Best Sports movie ESPY Award. If you want to find a Family Movie, which can be inspired, touching, and hearth-warming. The Blind Side was the one!.
(Image Credit: BoxOfficeMojo.com)