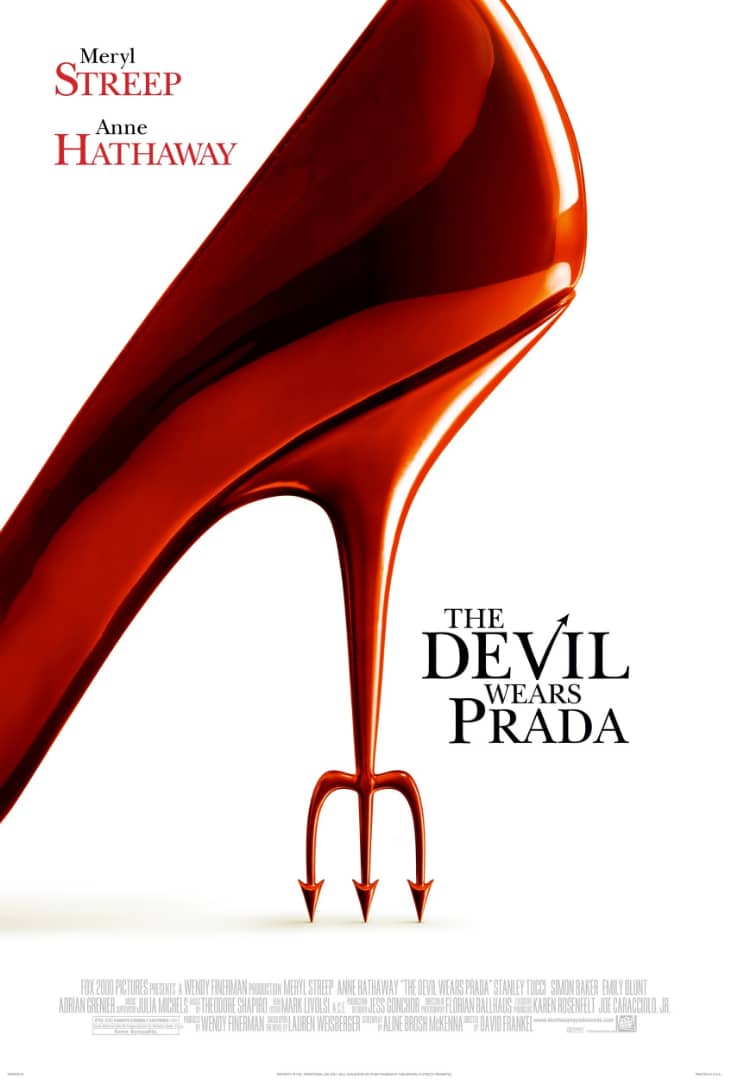 The Devil Wears Prada
Prada is a classy and upscale accurate, sophisticated level of truth of an Italian luxury fashion house founded by Mario Prada, specializing in fashion industries. The Devil Wears Prada is significant as the Devil is cold and heartless that loves to wear a luxurious piece to appreciate fashion's beauty. This movie reveals the countless hours and dedication of a designer to produce a single piece of art. We might take five minutes to choose the outfit for the day, but they devoted a thousand hours, days, and nights to develop an idea for a single style. You will appreciate more about fashion after watching this movie. For someone who wants to join the fashion industry, this is Must Watch films for you!
Overview
The Devil wears Prada, a comedy-drama film released in 2006, directed by David Frankel and the storyline written by Aline Brosh McKenna. This film is an adaptation from the best-selling novel "The Devil Wears Prada" by Lauren Weisberger in 2003. A story about a young and aspiring journalist, Andrea Sachs, also known as Andy, trying to adapt to the fashion culture as she ventures in one of the prominent magazines, "Runway." She landed a job as a junior personal assistant to a cold and heartless, Miranda Priestly, also known as The Devil. There is something about Andy that Miranda likes, which is why she offered the job to her. Andy was not a fashion monger; in fact, she does not care about fashion at all. She plans to stay for a year to build up her career and quit. A job that "millions of girls would kill for." That's what people keep saying to her as she gets the opportunity. Miranda is a devoted designer who does not care about anything other than her reputation and is willing to step on others if they get on her way. A callous editor refused to acknowledge her best employee, and close friends, Nigel, who's been loyal for 18 years working with her. A betrayal moment as she stabs him at the back while giving a speech about promotion to secure her reputation. That scene is jaw-dropping. A skeptical editor versus a young journalist! That's what you are going to get as you watch through the storyline.
Cast Members
The casting department has done an excellent job as they managed to choose the best actor and actress that fit the role. Meryl Streep (Miranda Priestly) often mentions her generation's best actress and has repeatedly struck again in this film. An unbelievable performance by the highest-paid actress in the world in 2015, Anne Hathaway (Andrea Sachs, Andy) would make you fall in love with her. This film best supporting role stars Emily Blunt (Emily Charlton), Stanley Tucci (Nigel), Simon Baker (Christian Thompson), and Adrian Grenier (Nate Cooper).
Success Rate
These films' success leads to AFI Awards (2007), AAFCA Awards (2006), and BMI Film Music Awards (2007). Meryl Streep's outstanding performance grand her with Golden Globe Award (2007) for Best Actress, EDA Award (2006) for Best Actress in a comedic performance, and nominee for several other prestigious awards. In 2006, these films became the 12th highest-grossing film worldwide with $300 million, and a $41 million budget.
Final Thought
The harsh-but-true perspective about fashion will open your eyes. Your Life! Your Choice!. The moment Andy walks away at the end of the movie makes us believe we have a choice in our lives, and we get to decide it. This film will make you think twice about balancing your career and love. A Must Watch movies with 75% rating by Rotten Tomatoes, and beloved by 93% of viewers, will make you worth your 109 minutes watching this. The Choice is YOURS!
(Image Credit: BoxOfficeMojo.com)