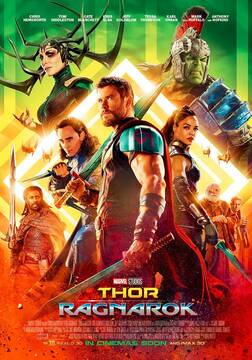 Thor Ragnarok
Movies are coming out left and right and it's nearly impossible to watch them all. There are new films made every month and making sure you watch the ones that you would like and not waste your time is important to get the most entertainment. That's why we decided to watch them all and review all of them so you can decide which one you would enjoy and which one you wouldn't. Thor: Ragnarok is the third sequel of the superhero movie Thor and part of the MCU saga. It has a great cast with Chris Hemsworth as the lead role and in this one, he's trying to stop an evil supervillain named Hela from destroying his home. (Image Credit: amazon.com)
Cast Members
The lead role is played by Chris Hemsworth and as usual, he's doing an excellent job. The supporting roles in this one are Tom Hiddleston as Loki, Thor's brother, Cate Blanchett as the supervillain Hela, and Mark Ruffalo as Hulk. The entire cast is stacked with great actors.
Performance
The performance of Chris is as usual. He's great at portraying the role of Thor in this one as well. Cate is doing an amazing job acting the supervillain Hela and delivers an amazing performance making this movie even more fun and entertaining. The rest of the cast members have smaller roles but they are doing great and elevate this movie even further.
Production Quality
The entire production is amazing. It's well-made down to the tiniest detail. It has great fight scenes, excellent CGI, and special effects and overall it's well-executed. This movie will grasp your attention at the start and hold it till it ends.
Script Analysis
The script is good as well. They have some humor inserted between the action and fight scenes as well as some serious speeches from both Thor and Hela. There might be some scenes that could be cut out so the movie isn't too long but in reality, everything is pretty good.
Entertainment Value
This movie will entertain you to the core. It's packed with action, it's exciting and funny at times. It is very well-made and it will keep you at the edge of your seat for the entire duration. The humor inserted in between action scenes will make you laugh and it comes as a great refreshment after watching all the action.
Assessment
Overall it's a movie that many will enjoy watching. Especially if you're superhero/action movie fans. The movie is packed with great actors and actresses that are doing their job excellently. It's fun and exciting to watch and even though there are some scenes that could be cut out you won't mind them at all.
Improvements
The movie is amazing so there's not much that could be improved here. Maybe some scenes shouldn't make the final cut because the movie would be great without them too but they aren't a big deal and don't make the movie less good.
Final Thoughts
A movie that would be enjoyed by any action/superhero movie fan. It is very entertaining and it will keep your attention for the entire duration. Chris is amazing at his portrayal of Thor and Cate does an excellent job as the supervillain Hela. The entire cast is doing a great job and entertains the audience excellently.