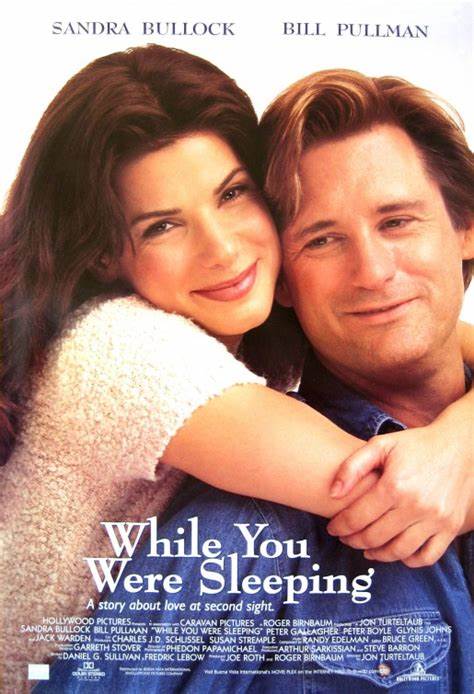 While You Were Sleeping
A lot is happening while you were sleeping!. How would you feel if you passed out one day, and as you wake up, you got engaged with a stranger woman, and suddenly, all your family loves and adores her. On top of that, your godfather tried convinced you to accept her as soon as possible and marry her. There is even a medical doctor who confirmed that you might have short term amnesia. Everything's mixed up. Confuse and lost! If you want to know more about what happened, find it on "While you were sleeping," You are not going to regret it!
Interesting Storyline
While you were sleeping was released in 1995, directed by Jon Turteltaub and written by Daniel G. Sullivan. Life does not always turn out the way you planned, and it is true. This movie is not about a guy trapped to marry a stranger woman; it is about that stranger woman who stuck and longing for love from an unknown family. Lucy, a lonely woman who has no family, found a new shine in her life. On a Christmas holiday, she saw her secret crush, Peter, gets mugged; they pushed him down to the train track. Without thinking, she jumped on the trail and saved him. That's where the problem starts to come. She did not realize saving him would be a game-changer to her life. Things got mixed-up at the hospital where the nurses announce her as his fiancé. His family is grateful when they know she saves him and shock about the fiancé news. They quiet happy seeing Lucy as they don't like his girlfriend before.
She wants to tell the truth, but Saul's convinced her not to as things might get more complicated. Besides, his grandmother has a heart problem. She tried to play along until she met Jack, Peter's brother. Jack falls in love at first sight when he saw Lucy, and he got suspicious about Peter's relationship with Lucy, as she is not his type. He cornered Lucy with all the questions until the most crucial secret revealed to the family. Lucy accidentally knows about Peter's having one testicle when she met his friend. She wants to gain his family trust, so she told that secret to everyone. "Now, he's got more room in his jocky short." It's hilarious! During her wedding days with Peter, She tells the truth to everyone. She explained that she fell in love with the family as they treat her very well. She gets a chance to become someone fiancé, daughter, granddaughter, sister, and friends. She finally found her happiness when Jack proposed to her at the train station with all the family members. At the end of this movie, Peter asks Lucy when you fall in love with Jack, and she replied, It's when you were sleeping.
Cast Member
The cast member has shown exceptional performance throughout the entire film. This films star Sandra Bullock (Lucy Eleanor Moderatz) and Bill Pullman (Jack Callaghan) alongside Peter Callagher (Peter Callaghan), Peter Boyle (Ox Callaghan, father), Jack Warden (Saul), Glynis Johns (Elsie, the grandmother), Micole Mercurio (Midge Callaghan, mother) and Monica Keena (Mary Callaghan).
Final Thought
It's a happy ending, and we love it. This film is a success as the budget is $17 million against the $182 million box office. Who would guess a near-death saving crush event will change the future. We never knew what was going to happen in our life. Enjoy it, and always be kind to everyone. If you are lucky enough, you will find the love of your life. A Must-Watch movie for you! And please do not watch it While you were sleeping.
(Image Credit: BoxOfficeMojo.com)