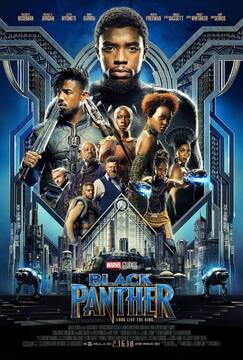 Black Panther
The movie industry is almost impossible to track because a lot of movies are being released on monthly basis. Trying to watch all of them is nearly impossible which is why we decided to do it for you and review them one by one to give you the chance to make an educated choice when picking a movie to watch. The Black Panther is a movie that is one of the best from all the MCU movies. The main character is a prince from Wakanda who returns to take his rightful place on the throne and become the Black Panther, but he is contested by his cousin that they thought was lost. (Image Credit: amazon.co.uk)
Cast Members
The lead role is played by Chadwick Boseman who does a great job of portraying the character. The supporting characters are also great in their roles. Michael B. Jordan is playing the antagonist while Martin Freeman has a supporting role and portrays it excellently.
Performance
The performance of the actors in this movie is excellent. They are all working amazingly together and complement each other. They do an amazing job of making this movie even better than it already is. They are going to keep you entertained and at the edge of your seat at all times.
Production Quality
The entire production quality is spot on. The movie is interesting and entertaining while being extremely well made. Some fight scenes could be better choreographed but other than that it's a very good movie.
Script Analysis
The script can be a little better in my opinion. There aren't enough comedy moments in this one and even though it's an action movie, the MCU tends to insert awesome comedy parts in their films.
Entertainment Value
This movie is very entertaining. It keeps the audience attention for the entire duration and leaves them wanting more. The actors and the entire story contribute to this as well as the amazing special effects and CGI. It's a very engaging movie to watch that keeps your attention.
Assessment
Overall it's a superhero movie that action fans would love. It's interesting and exciting with a lot of cool fights, chases, and special effects. Although some fights could be coordinated better to make it even more exciting, it's a good movie to see.
Improvements
The improvements that could be made are in the fight scenes and a little bit in the script. The fight scenes choreographies can be improved and the script lacks the same humor as the rest of the MCU movies.
Final Thoughts
A movie that you would enjoy if you're an action/fantasy fan. It's a superhero movie that is very entertaining and fun to watch. Chadwick is amazing in his role and portrays the character excellently. The other actors are doing an excellent job of supporting him and playing their roles to perfection.